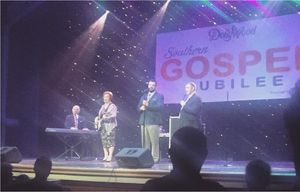 Nashville, TN (November 6, 2017) Pigeon Forge Tennessee has become a destination for Southern Gospel Fans. The Smoky Mountain town hosts several major events throughout the year including the National Quartet Convention, Creekside Gospel Music Convention, Gatlinburg Gathering and the Fall Harvest Celebration at Dollywood. During the month of October, several Butler Music Group artists appeared at Dollywood as part of their month-long concert series. 
The Showstreet Palace in Dollywood played host to four Butler Music Group artists.  The Williamsons are staples on the largest stages Gospel Music has to offer.  They performed many of their hit songs including their Singing News #1 song, "Shout." Also appearing at Showstreet were the Old Time Preachers Quartet, Heaven's Mountain Band, and Jason Davidson. The Old Time Preachers Quartet, fresh off their debut appearance at NQC, received an enthusiastic welcome from 5 standing room only crowds. Heavens Mountain Band is often mentioned alongside groups such as the Issacs and Primitive Quartet. They appeared on multiple days and their theater was also standing room only for each show. The 2018 Harvest Festival marked the first appearance for breakout soloist, Jason Davidson. "In addition to singing and playing with my own quartet, I thoroughly enjoyed playing mandolin with Heaven's Mountain Band and piano with Jason Davidson.  It was a special treat to play along-side my son, Matt who played bass for Jason.  My daughter was emcee for this series.  What a proud moment," states BMG owner, Les Butler. 
One of the many great things that makes the Fall Harvest Celebration so great is being able to see so many groups at one time spread out across the park. The Coffmans and Sacred Harmony were invited to perform this year at Dollywood with the Coffmans appearing at the Back Porch Theater and Sacred Harmony at the Valley Theater. Both groups performed to packed out crowds. 
Fans are encouraged to make plans now to attend the 2018 Fall Harvest Celebration to see these incredible Butler Music Groups artists and more. For more information, go to www.dollywood.com.